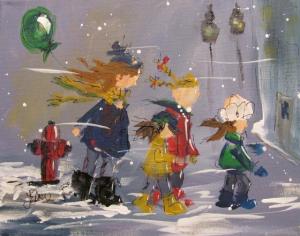 Life is better with a little Spice!
I have a new mantra: Live a life with passion! I watched an interview between journalist, Harry Smith and Chobani creator, Hamdi Ulukaya. During the interview, he talked of passion. He said, "With passion, pray. With passion, eat. Drink, with passion. Make love with passion. Dance and play, with passion. His words rang true with me and I knew in that moment that passion is the element that I need to embrace in my life.
For me, I also must paint with passion. Remarks often made by visitors to my art booth are, "you must be smiling and dancing in your studio!" Painting for me is my passion.
So I will embrace my passion. Revel in the spices of life. This blog will be about painting, loose and spontaneous and about taking a front row seat. I hope you will follow along!